How it Works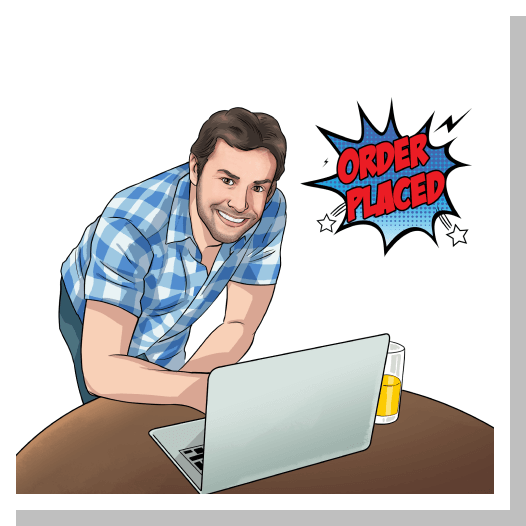 Order
Place your custom comic order via our website. Please wait to receive our email, where we will request information and photos. Don't worry if you are stuck for ideas we will help you.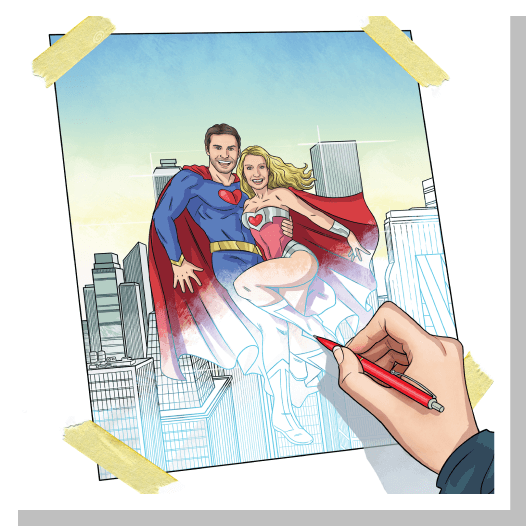 Draw
We will then draw your comic artwork, you will get opportunities to request edits. The comic artwork is only complete when you approve it.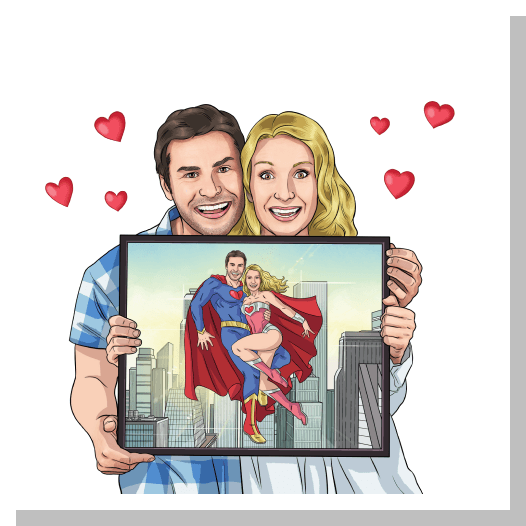 Enjoy!
Once your custom artwork is complete we will email you the high res file. You can either opt to print it locally or we print the comic artwork on canvas. We ship worldwide.
It's the ultimate custom luxury comic gift!
Our custom comic strips and custom comic books are a once in a lifetime gift for the one you love; whether your husband, wife, boyfriend, girlfriend or best friend. A custom comic strip or custom comic book is the ultimate romantic gift for anniversaries, weddings and birthdays. But your comic story needn't be romantic, you might opt for an action packed superhero story instead featuring the recipient as the hero! This truly is the ultimate gift you can ever give anyone.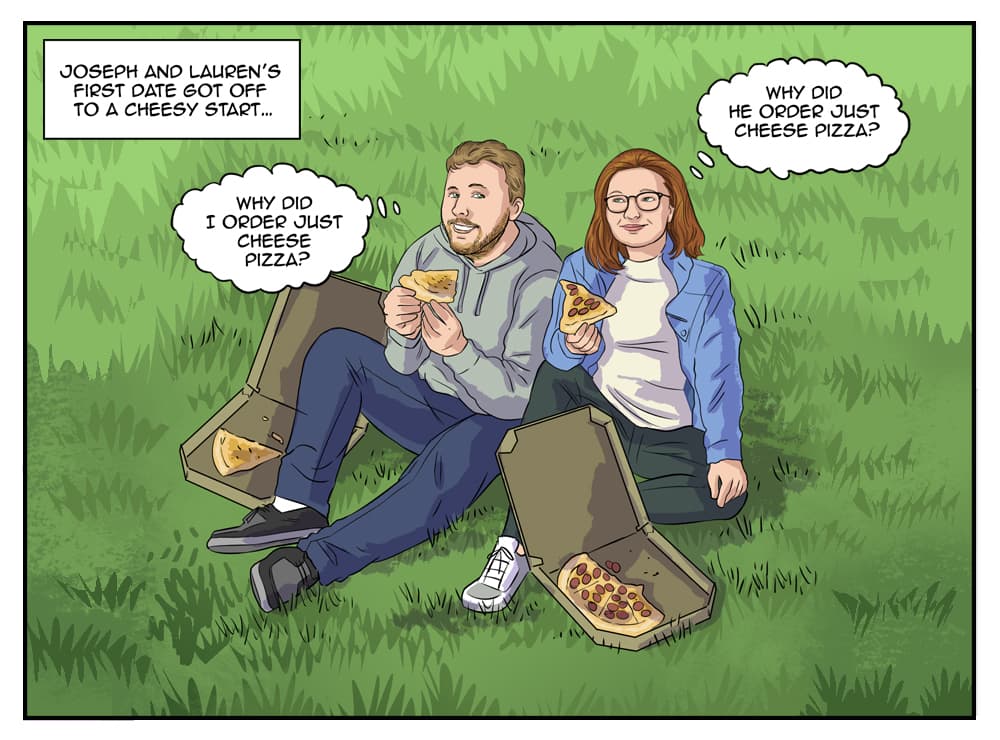 Recreate your favorite memories!
Our custom comic strips and custom comic books retell your favorite memories, capturing all the thoughts and feelings at the time. All our custom comic products are hyper personalized, the characters, places and pets all look like they do in real life. You will recognise yourself! We include the tiniest little details, which make the final result very thoughtful and special. A heartfelt, fun story to read again and again.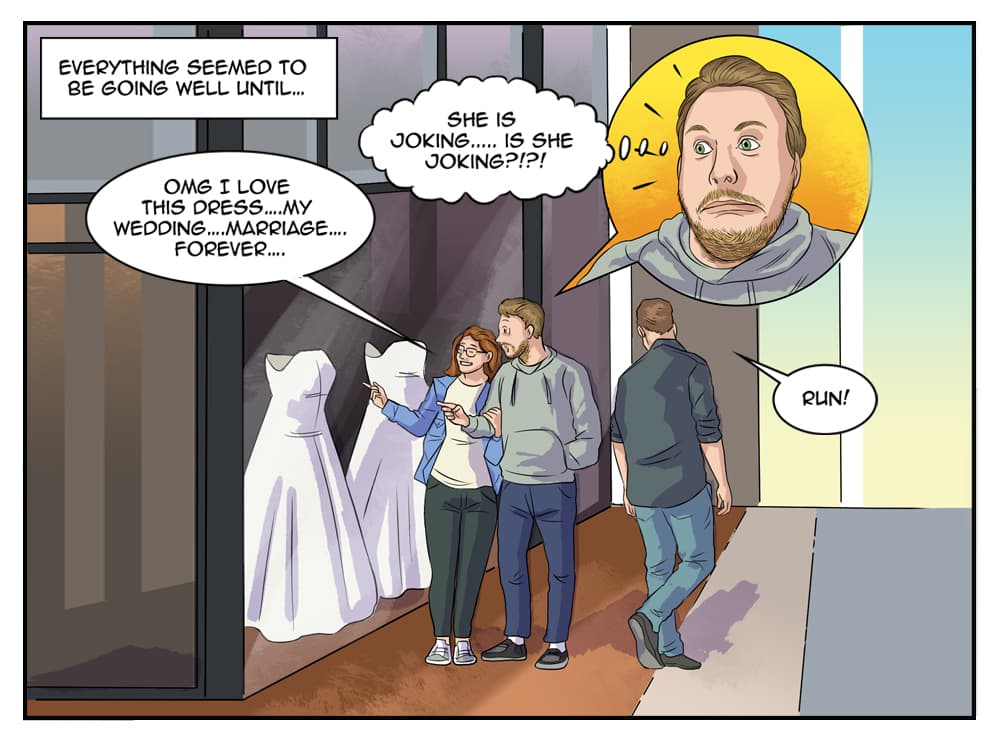 It's fun to create!
Don't feel daunted by the process and don't worry if you are stuck for ideas. We will guide you through every step of the way, asking the right questions and requesting the right photos. All our customers are surprised with how fun and easy the process is. It's a great trip down memory lane, remembering all the heartfelt moments you share with your partner. Or if you opt for a superhero story it's super fun coming up with the ideas such as their superpowers and their superhero name.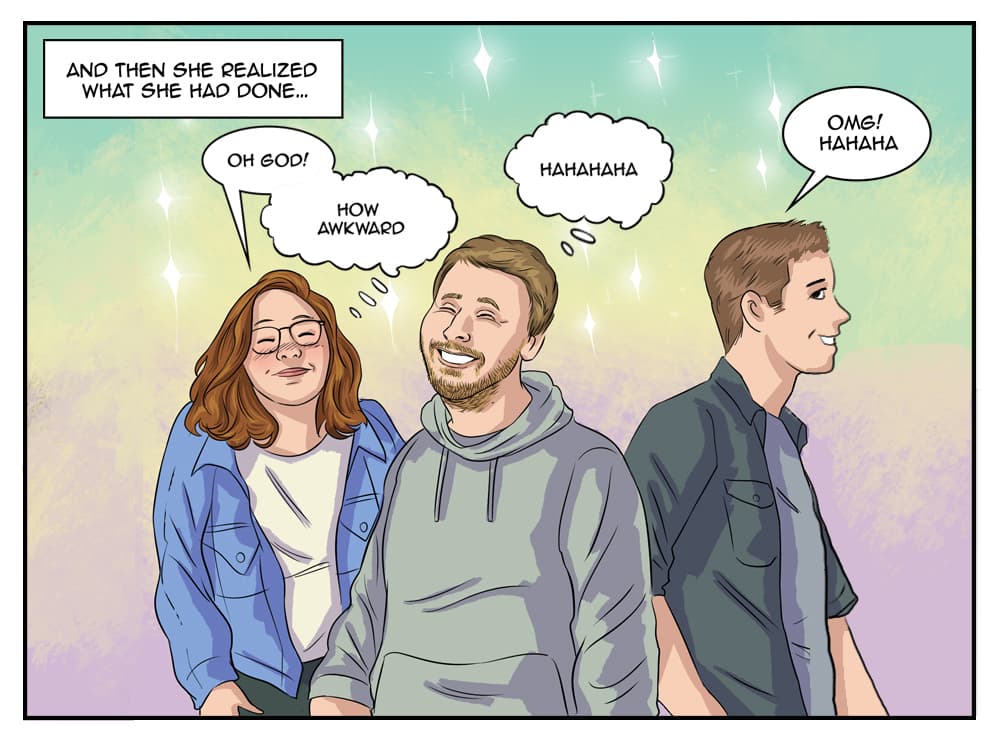 It's a hand drawn piece of original comic art
All our comic products are hand drawn from scratch, we reference many photos and use our imaginations to recreate your love story. All our team are professional comic illustrators, we come from all over the world and have vast experience within comics and illustrating. Your custom comic artwork will be 100% unique and original to you. 
Purchase one of our comic products and blow your partner away, this will be the best gift you ever give them!
Get Start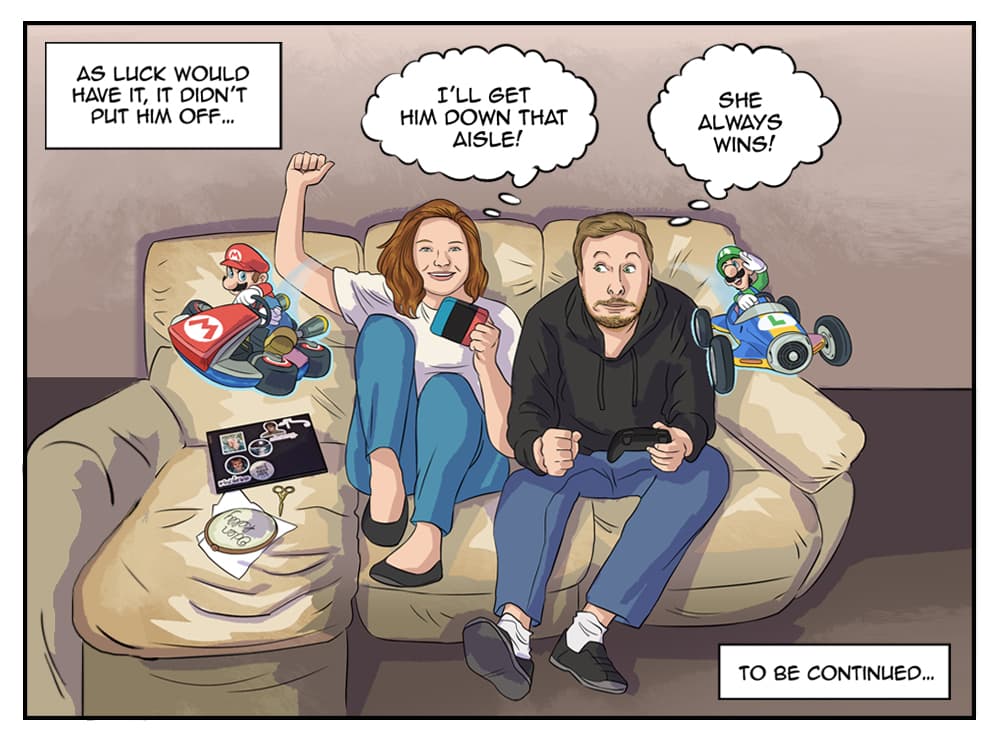 FAQ
Have questions? We have the answers. If you cannot find what you are looking for, feel free to reach out to us directly.
How long will my custom comic artwork take to create?
This depends on what you ordered. Once we have all the information and photos, comic covers can take anything from 1-4 days. Comic strips can take anything from 4+ days and paper comic books can take anything from 10+ days.
These timelines also depend on our work load, remember everything is created from scratch, by hand…there are no robots on our team.
But we do meet 99.9% of deadlines, if you need it quickly, message us and we will see what we can do. A rush fee may apply.
How do I print my custom comic artwork?
Once complete we will give you a high resolution digital file of your comic artwork. Any local printer can print the artwork using that file, and we will help you find the right printer. You must print the artwork at the size we create it at to get the best results.
If you have any issues with an online printer not accepting the file please get in touch, it won't be that our file is incorrect, it is just that different printers have different requirements.
What if I don't like my custom comic artwork?
In all the years we have been in business no one has not liked their comic artwork. Our process is very thorough, we understand and communicate with our customers very well. Every single comic job requires some editing, this is normal, and we will edit it until you are happy. No job is complete until the customer says so.
What payment options are there?
We accept all major debit and credit cards and Paypal.
Do you offer payment plans?
Yes we do offer payment plans through Klarna. You will see the option at the end of checkout.