Interested in how we create our comics?, then this blog will give you insight into our process. Or maybe you want to create your own comic book? Then the steps laid out in this blog may assist you. Feel free to contact us and ask questions.
How to design a comic book
Whether we are creating a custom comic strip or a custom comic book, the process is generally the same. Every comic starts with a conversation. Sometimes a client knows what they want, they might have even written the comic story. But most of the time our clients are looking to us for our expertise. 
Quite often it can be hard to decide which comic product is best for your project. Our advice is work within your budget and if your budget is flexible, then contact us first. We can then discuss your project together and I will advise you on which product I think is best.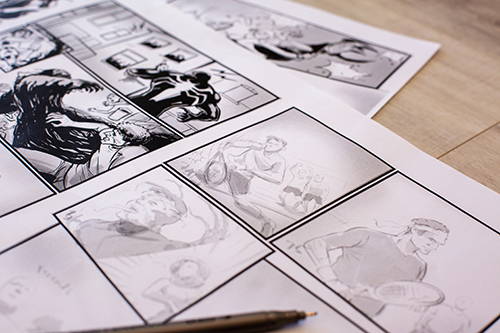 How to write a comic book
The process starts off with us chatting via email about your comic story. We will prompt you with questions and very quickly we will map out the story together. We will then email you many questions and request photos, once we have all the information the real fun starts!
If you are writing your own comic story it can be a good process to ask yourself many questions, this way you won't miss anything. The best comic stories have the smallest little details, every time you read it you notice more and more things.
How to draw a comic book
First we create a rough draft of the comic. This is the best way to design a comic book, as you can map out the story in pictures, making sure you have enough room for everything. The story needs to be clear and concise, and not too text heavy, let the pictures do the talking. 
 A rough draft can easily be edited without much work. Once we have created our rough drafts we send this to the client, requesting any changes they may want. This is where the biggest changes occur, because it's easy and quick. I think if you are designing your own comic you will find that this is a very useful step. If you are creating a very long comic book make sure you draft out all the pages, this will save you time and work in the long run.
 You can check out some of our comic books here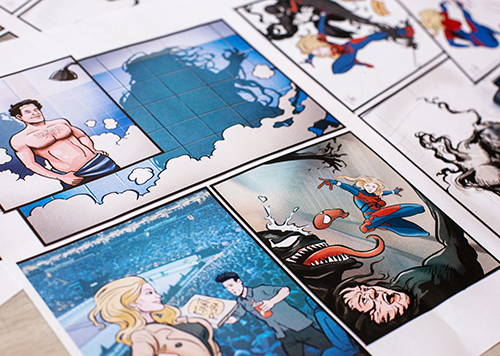 How to design a comic character
Alongside creating the rough draft we often sketch out the characters. We might draw them from a few different angles, especially if the comic book is quite long. This is a great way to get to know your characters and develop them, a very important to a successful comic book.
We always use reference photos as all our comic characters are living people. It's very important we use good photos so the customer recognises the people. We are only as good as the photos. 
 If you are creating characters from your imagination it is still important that they look the same throughout the comic. It is also important that visually your character looks like the type of character he is, for instance a bad guy should look like a bad guy.
You can check some of our superhero comic covers here
How to color a comic book
First we do what is called 'inking'. This is outlining the comic in black and adding any rendering where need be. We are a team of 12+ and we all have our different methods when it comes to this. Some of us have created our own brushes, others use standard brushes. It's all about finding the right program settings for you which you feel show off your illustration skills the best.
 If creating your comic on paper then perhaps use 2-3 black pens of different thickness and remember creating a comic is not about how well you can draw. The simplest comics have had huge success over the years. It is about the illustrations, story line and ideas combined. 
 Once the comic is inked we color it. It's important to keep in mind the story theme, if it's a romantic love story then we will keep the color palette quite soft, whereas if it's a superhero comic story we will use brighter colors more in line with traditional comics. We often use flat colours first and then we comes in with light and shade to give them comic some depth. We might also come back in with the inking and render more where we need to. Rendering is where you add detail texture and form, making objects and people appear less flat.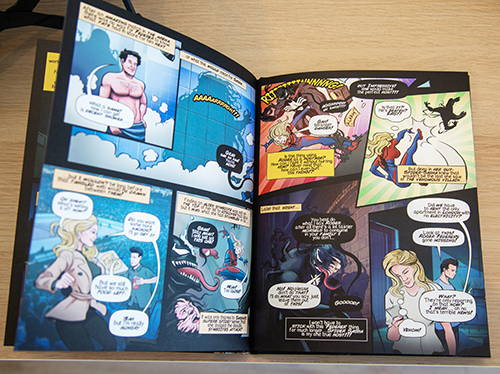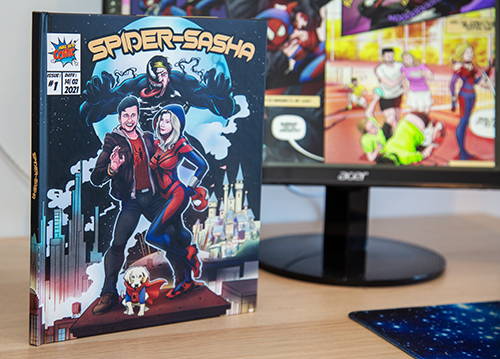 Create your own comic book today!
Once complete we send the comic artwork to the customer, at this stage they can still make changes. Usually it's small things like text, colors and likeness to characters. Likeness to characters can sometimes be quite tricky as people can look quite different across different photos, better your reference photos, better the result and the quicker the comic book will be drawn. 
  Whether you want to hire us to design your comic book or whether you want to create your own comic book I hope this blog gives you the information that you need. Any questions please don't hesitate to contact us, we are always interested in your ideas.