Anniversary photo books are very popular nowadays, a photo collection of all your favorite memories together as husband and wife. But now you can go one step further and create a personalized anniversary comic book! The ultimate anniversary gift for your husband or wife, in fact the best gift you will ever give them!
What is a personalized anniversary comic book?
A personalized anniversary comic book is a comic story about your relationship with your husband, wife, boyfriend or girlfriend. It starts right from when you first met and covers all those special moments you have shared. Such as the first date, first kiss, first 'i love you', proposal, wedding. Any memories which are special to you both, there are no limitations as to what can be included.
 You don't need photos for every memory, just describe the scene as best you can and we will recreate it. The personalized anniversary comic book is the perfect gift for the couple who barely take any photos.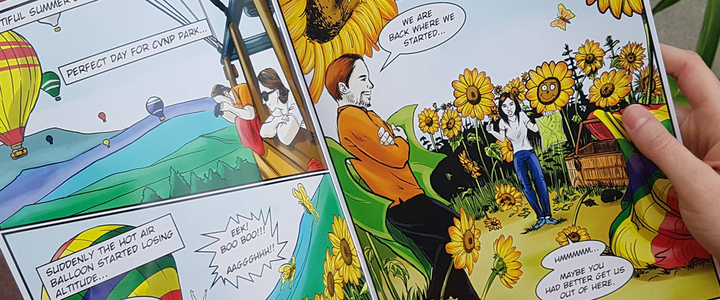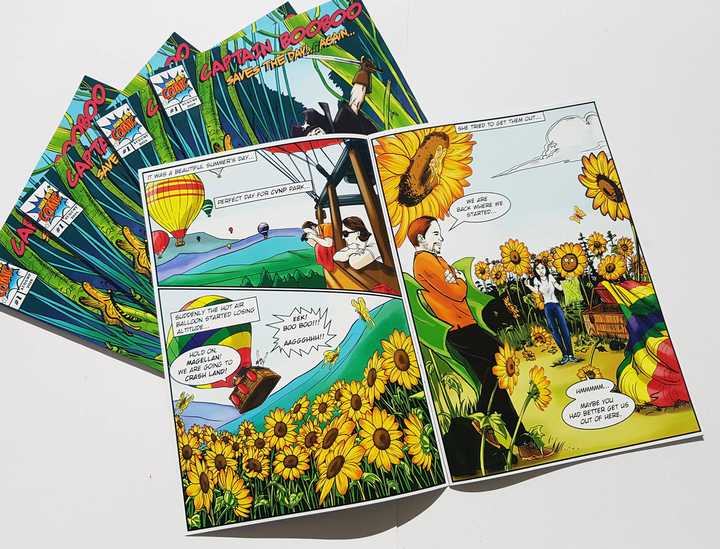 Is it easy to create?
Yes! It's actually really easy. You tell us your love story in your own words, you don't even need to consider how we will turn it into a comic. We then ask you questions about your relationship and request photos of people, places, specific objects and pets (if there are any). It's a really easy and fun process, a great trip down memory lane which everyone enjoys. We make you feel very much part of the process. We ensure that we ask very detailed questions so the final result is very detailed, it's the tiniest things which really make this a special thoughtful gift. Se our FAQs for more information. 
We will then create a personalized anniversary comic book telling the tale of your love story. We illustrate it by hand from scratch, creating a 100% unique and original piece of comic art. You can make edits at no extra cost, once complete we either print it on canvas or you can print locally.
Why is it the ultimate anniversary gift?
I think what makes this such a great gift is the hyper-personalization in the comic. The comic story accurately captures thoughts and feelings, mannerisms, private jokes and 'pet names'.  The level of detail is really quite incredible. There's also no question as to who are the people in the comic, you will recognize yourself and your partner. 
This is the ultimate and  most thoughtful and sentimental anniversary gift you will ever give anyone. The recipients often cry with joy, as it can be quite overwhelming to see your love story in a comic. They will look at it again and again in awe, each time noticing new things. 
 Even our customers are blown away with the final result. Despite being very much involved throughout the whole process, when they see the final comic artwork it takes their breath away. Opt from a comic book or a comic strip.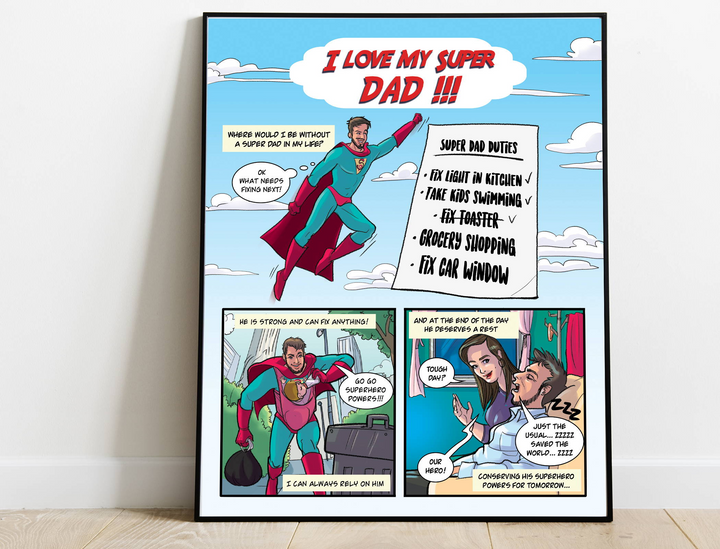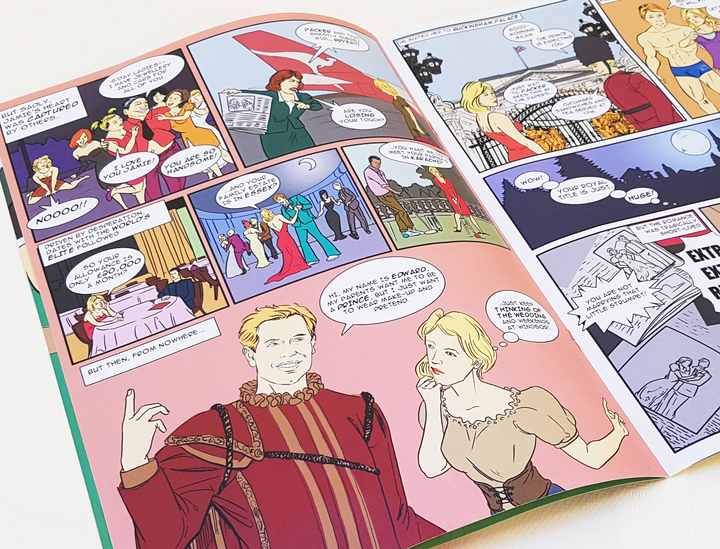 Why buy from us?
We have been creating custom comic books since 2012, what started off as a hobby for myself, Aura Gold, is now a thriving business and provides an income for 12 other professional comic artists. We are a boutique artisan custom comic business offering top quality products and our 5 star customer service is intimate and efficient. Every single customer is treated with the utmost importance, making everyone feel like no.1 at all times. Read more about us here. 
We sincerely love what we do, this doesn't feel like work for us - it's too fun to be called work! It's a really magical moment when we sit and chat with customers about their love stories. A great reminder for them of why they love their partner so much, every comic project generates so much good feeling. 
 We are extremely grateful to be doing what we do, our whole team lives and breathes comics, we are a big bunch of comic nerds at heart.