In this blog we show you some great examples of personalized comic books, perfect for your boyfriend, husband, girlfriend or wife. 
What is a personalized comic book?
A personalized comic book is a custom made comic book of any story you like. A couple's love story is the most popular choice, but we can create any story you like. Some themes we have covered are superheroes, manga, horror and pets.  The story is written from scratch, customized just for you. We brainstorm ideas with you, then ask plenty of questions and request photos. The process is really fun. 
You can check out our personalized comic books here . We also create 1 page custom comic strips. These are good for people on a smaller budget. If you have any questions about our custom comics you can check out our FAQs first.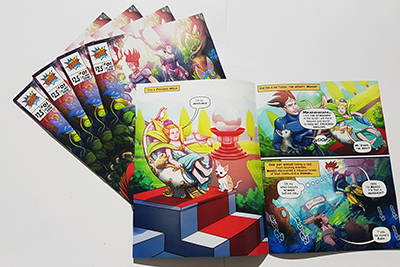 Why  create a personalized comic book? 
A personalized comic book is the ultimate gift for all comic geeks, to see themselves featured in their very own comic, it will blow their mind! It's a very unusual and unexpected gift, possibly the most thoughtful gift you will ever give someone. 
You get to create your very own unique comic story, everything from the storyline to the illustrations will be hyper personalized to you. You will recognise the people and places in the comic, everything is drawn very accurately. 
Say we create a superhero story for you, turning your partner into a hero, we will create their superhero alter-ego based on their skills, likes, their job etc - so whilst it will be a fictional story it will have personal things about the recipient weaved in.  
some examples of personalized comic books
Here are some of our favourite personalized comic books which we have created for our customers. They span a few different story genres and different comic drawing styles. 
Custom Superhero comic book for 40th birthday
We created this comic for Alex, for his 40th birthday. His girlfriend wanted us to turn him into a superhero, where he was basically the town's Superman. We chatted with his girlfriend about what kind of superhero he would like to be and what his powers would be. She sneakily asked him some questions so we could make it as personable as possible. 
When he got the custom comic book he was blown away, he said it was the best gift anyone had ever given him. I don't know what she bought him for his 41st, but for sure this is a hard gift to beat!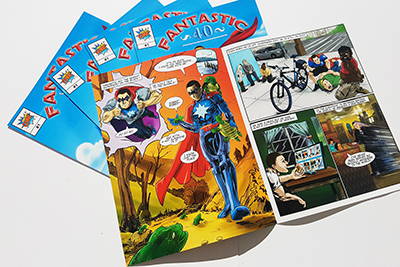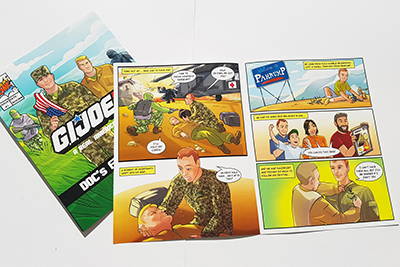 Custom GI Joe Comic book for boyfriends birthday
This is a custom comic book which we created for Joe, a guy who collects anything to do with GI Joe. His girlfriend commissioned us to create this, creating a fictional story turning her boyfriend Joe, into GI Joe!
We told the story of Joe's life from when he was a kid, and showed his achievements in the army, ending with him of course saving the world. Joe loved this custom comic book, we heard it is pride of place on his GI Joe comic book wall. 
Custom fantasy comic book for husband for anniversary
Lynn hired us to turn her love story with her husband into a fantasy comic story. This was really fun to create as our imaginations were allowed to run wild. She wanted something super creative which symbolized her relationship but at the same time something super personable. We worked very closely together coming up with the best imagery which would mean something to her and her husband. 
Her husband loved it, he still raves about it to this day. What was great about this project is that Lynn totally trusted us to come up with the best ideas. Which meant we were really able to use our magic. 
Want to create a custom comic book or custom comic strip? Get in touch and share your ideas.